Private Practice of Medicine & Geriatrics
"In whatsoever houses I enter, I will enter to help the sick."
- Hippocrates
Robert Hart Kelly, MD, FACP
BA, Amherst College, Neuroscience and Psychology
MD, University of Texas Houston
Internship and Residency, Oklahoma University
Practice Established 1984
1984 Board Certified in Internal Medicine
1988, 2007 Board Certified in Geriatric Medicine
2000 Fellow American College of Physicians
Robert H. Kelly, MD opened his office in 1984, joining his father, Gordon B. Kelly, MD, and brother, Allan R. Kelly, MD in the same building at 929 College Avenue built to house these individual practices. His unique approach and model of care has evolved from a lifetime of study, commitment, education, and dedication to internal medicine, geriatric medicine, hospital care, hospice care, and post-acute care.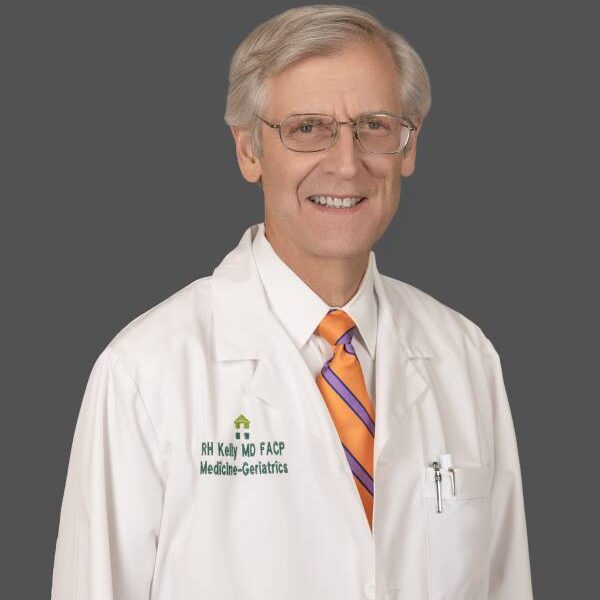 Robert H. Kelly, MD, was born in Fort Worth and graduated in 1973 from Fort Worth Country Day. He completed his B.A. in 1977 at Amherst College (Amherst, Massachusetts), where he majored in psychology and neuroscience. His medical school training was at the University of Texas Medical School in Houston. After four months at Oxford University in England in a postgraduate externship, Dr. Robert Kelly earned his M.D. with Honors in Internal Medicine, Infectious Diseases, and Pediatrics. He completed his internship and residency in Internal Medicine at the Oklahoma State Teaching Hospitals before continuing to a postgraduate course in Geriatric Medicine at the University of California at Los Angeles Medical School, which he completed in 1987.
In 2000, Dr. Robert Kelly was elected a Fellow of the American College of Physicians (F.A.C.P.). Dr. Robert Kelly has been awarded numerous honors and certifications, including Fort Worth, Texas magazine's 'Best in Internal Medicine' (2001 & 2002); 'Best in Primary Care Medicine' (2002) and 'Best in Geriatrics' (2021). He was awarded Texas Monthly Magazine's 'Super Doctors of Texas, Internal/Geriatrics Medicine' (2015 to 2022) and United Healthcare's Quality and Efficiency Designation (2006 to 2022)
In 2010, Dr. Robert H. Kelly and Dr. Allan R. Kelly created Premium Medical Home.
Dr. Robert Kelly holds Texas medical licensure and is board certified in Internal Medicine and Geriatric Medicine. He lives in Fort Worth with his wife, Paula.
We want to hear from you!
If you have a question or would like more information about us.
Kindly send us a message!